Afterworlds by Scott Westerfeld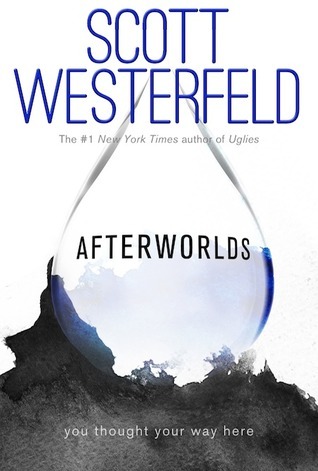 Rating: 4/5 stars
Genres: Romance, Panaromal, YA Fiction
Pages: Hardcover, 599
Goodreads:
Darcy Patel has put college and everything else on hold to publish her teen novel, Afterworlds. Arriving in New York with no apartment or friends she wonders whether she's made the right decision until she falls in with a crowd of other seasoned and fledgling writers who take her under their wings…
Told in alternating chapters is Darcy's novel, a suspenseful thriller about Lizzie, a teen who slips into the 'Afterworld' to survive a terrorist attack. But the Afterworld is a place between the living and the dead and as Lizzie drifts between our world and that of the Afterworld, she discovers that many unsolved – and terrifying – stories need to be reconciled. And when a new threat resurfaces, Lizzie learns her special gifts may not be enough to protect those she loves and cares about most.
A few years ago, I read the first book in the Uglies series (very cleverly titled Uglies—unless I'm wrong and the series has another name?). Then last year, I read the Leviathan trilogy. All four of these books by Scott Westerfeld blew me away. This is why I had to pick up Afterworlds. Now, of course it's taking me almost a year to pick up since it came out, but I had it. The beautiful tear drop-covered glory was on my shelf, in it's tall and heavy hardcover book magnificence.
I was just too intimidated to read it. I mean, come on. 600 pages? That would take me forever to read, and I was not up for that heavy kind of reading during the school year. Nor the summer for that matter, when I just want to read light books that I can read quickly. Right? Wrong.
The moment I picked up Afterworlds and began reading the stories of Darcy and Lizzie, I was instantly entranced. I read the 600-page book in only 3 days (one of which was a school day!). And I loved every minute of it. It was incredibly satisfying for being a stand-alone, but it was satisfying in the way that left you desperately wanting more.
Darcy's story begins with a one-page chapter that gives the perfect opening to the book. It doesn't reveal much, but it gives a clear and concise beginning slate of the story. Immediately following is the first chapter of Lizzie's gruesome story (well, her story isn't necessarily gruesome, but the chapter is). Westerfeld captures is able to write with the voice of a seventeen-year-old writer for Darcy's manuscript. I don't know how he did it, but he did. He managed to make the two stories completely separate, and write Darcy's Afterworlds in a way that didn't feel like his writing, even though you knew it was his all along.
Both stories were incredibly powerful in that they promoted living in the now and not waiting for life to come for you, but to chase after life. The only problems I had were with the romances. I was really confused about where Yamaraj and Lizzie's romance/love came from in the story, because it felt a little forced and rushed, and then Darcy and her love interest also popped up out of nowhere. Like, it had no beginning in the chapters leading up to it, yet it somehow came to be in the middle of the book (I'm withholding the name of her love interest to avoid spoilers).
All in all, I was really impressed with the book. It would be incredibly difficult to write two novels, and then tie them together in the way that Scott Westerfeld did. I also loved the little insiders on the publishing system and "YA heaven" in New York. As a writer, it's my dream to go to N.Y. to write, and I love how Westerfeld takes that idea and makes it feel real and possible.
I also thought it was such an interesting idea to have the cover of Darcy's Afterworlds to be the cover for Westerfeld's Afterworlds. 
Now then, on to reading another book. Happy reading.